Jonathan Lam
Core Developer @ Hudson River Trading
---
Blog
TypeRacer tricks
On 3/8/2023, 5:55:34 PM
---
Current typing status
Inspired by a recent conversation with a friend, and by the fact that I've abused my laptop keyboard to the point that multiple keys have started failing intermittently.
It's been a while (1.5 years!) since my last post about typing. Then, I was still rapidly improving (see the 5,000 race mark, below); now, my progress has greatly leveled out. I've learned some more about typing since then, and this January/February I had a nice jump in speed. By now I've completed around 21,000 races on Colemak. You can see my overall progress below: the first image is WPM plotted over races, and the second image is WPM plotted over time.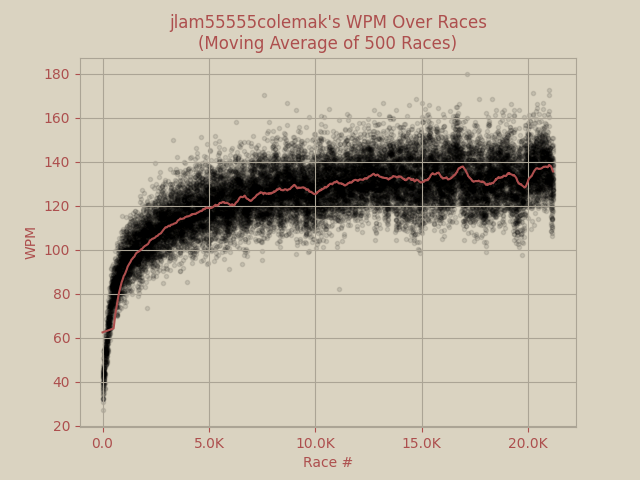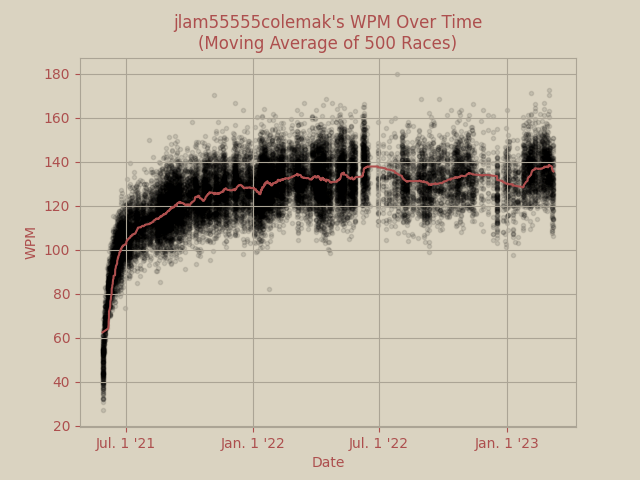 There are probably a lot of things you can infer from these two graphs. One little feature is that it shows when I was busy with work or moving; these caused the two mostly-empty periods around July 2022 (moving to California) and December 2022 (busy with work). As a result of both of these gaps, my typing speed average decreased gradually following those two periods. Conversely, there are also large jumps in the typing speed average when there is an influx of races, such as the one in May 2022 (summer after college) and February 2023 (following my layoff).
As mentioned before, the most recent influx of races after 20k races (after January 2023) was an inspiration for this post. I was able to hit 140wpm averages over 10 races fairly consistently, and would hit 150wpm or 160wpm on many texts that I haven't been able to do previously. When reflecting on the reasons for this surge in typing speed, I came up with the following list of reasons.
The most recent drop in typing speed average is due to my normal keyboard breaking; I am now typing on linear switches rather than my usual laptop keyboard, and I feel that my accuracy is much lower. Current keyboard setup:
---
The advice
Wrists raised and straight, fingers curled Keeping a flat wrist is standard and important ergonomic advice to prevent against repetitive strain injuries (RSI). There are a number of ways to achieve this, such as using a lower-profile keyboard, using a laptop keyboard, using a raised and padded wrist rest, or using an ergonomic keyboard (which usually has a built-in wrist rest). In addition to keeping a flat wrist, I also find that keeping fingers more curled has helped with accuracy and speed, especially when reaching further keys. To do this, I try to keep my arms a little farther forwards in typing position, so that my fingers are also fairly curled even when resting on the homerow. Lastly, I find that not resting my wrists and palms on any surface (laptop or wrist rest) helps also with typing speed, even when my wrists are straight. This is a bit more tiring, but I feel that my hands are more dynamically.

Previously, I had always tried to keep my wrists straight, but I found that the latter two tips have helped me at high speeds (150wpm and higher).
Bursting (and burst erasing) This is probably the most important tool for improving speeds above 150wpm. Basically, bursting means to try to type multiple characters at a time in quick succession, rather than focusing on typing individual letters. If possible, typing a whole word at a time (e.g., "the" would be a single quick multi-finger movement) is ideal, or parts of longer words (e.g., breaking down the word "encyclopedia" into the easy-to-type parts "en", "cyclo", and "pedia"). Similarly, "burst erasing" is when you erase the whole word at once -- you can do this in TypeRacer by pressing Ctrl+Bksp. This is useful if it would take longer to correct an error than to retype the word from the beginning. Thinking in terms of easy-to-type, multi-character groups makes it much easier to type difficult words or correct errors. I find that MonkeyType is very useful for practicing bursting speeds.
Sitting on your legs (?!?) I often find myself sitting in weird positions when typing. Often times I am sitting on my leg(s) to get my arms to a comfortable height. It's a ridiculous hypothesis, but I usually feel that I am typing faster like this. My guess is that it either has to do with correcting my height or constraining blood flow to the upper part of my body.
Nonquit, warming up, and fast/slow practice While it's fun to beat new personal typing records and always try to optimize for a high WPM, there are times when I find that typing slower is useful. Usually this means being mindful and optimizing for accuracy rather than speed; this is better for long-term improvement and preventing against injury. Many people like "non-quit" typing, in which one does not quit races before completion; I find that doing this and not worrying as much on speed often helps me focus on accuracy (but also indirectly helps with speed). I also find that this is useful for the first 10-25 races to help my fingers warm up, which allows me to type for longer without getting fatigued. In this practice/warm-up mode, I usually also try to reduce finger strain by avoiding bursting, stretching my fingers more, and using a keyboard with a larger travel and softer bottoming-out characteristics.
Being "in the mood" for typing There are many times when I feel like my fingers are unsynchronized with my brain. Often my typing sessions would start with a few very fast races going all-out for accuracy, then suddenly (perhaps after 10-15 races) my accuracy would suddenly drop and my fingers would feel shaky. Then I would get more frustrated, accuracy would drop further, races would be quit, leading to a cycle of "angry typing" that made the typing even more erratic over time without providing any semblence of good practice. In this angry typing stage, my burst typing accuracy becomes horrendous and it feels that my fingers are malfunctioning.

Over time, I've realized that this is a normal thing that I cannot overcome, and developed a few tricks to help with this. Firstly, doing some slow warm-up practice at the beginning of a typing session greatly mitigates this, and not going for top speed at all for the main part of the session (but rather a comfortable bursting speed) is a comfortable steady-state. If this zoning out has already begun, then I find that focusing on accuracy for 5-10 races helps me regain my burst typing accuracy. Of course, walking away for a little bit or keeping sessions short to avoid fatigue are also good ways to reduce zoning out.
---
Thoughts on keyboard choice
My personal favorite keyboards for getting the best speed are still laptop keyboards with scissor-style switches. These have a small travel for a quick response, are tactile-enough, and usually have a fairly soft bottoming-out so your fingers don't hurt much. Another great benefit about keyboards is that you can rest your palm and wrist on the laptop and your wrists will still be straight (which is almost as good as keeping wrists raised). My favorite keyboards are the old non-chiclet style (~2010s) laptops like Dell Latitudes or older Lenovo Thinkpads, although newer keyboards are usually okay. The laptop whose keyboard I just broke was a 2017 Acer Spin 3. Macs with the butterfly keyboards are actually fantastic for burst typing, but quickly start to hurt from all the harsh feedback when bottoming-out.
I do like taller keyboards (more travel) for typing practice, as I feel that it makes me stretch out my fingers more and practice precision typing. These are usually more comfortable too with softer bottoming-out. I'm fairly okay with standard rubber dome keyboards if they're tactile enough (e.g., Dell L100), but I don't like many of the mushy standard-issue keyboards (e.g., Logitech K120). I don't really think there's a big difference in speed between many of these standard and cheap keyboards though.
Regarding mechanical keyboards (or more esoteric switch types such as optical switches or buckling-spring switches), I still can't say I've tried any other than my hand-me-down Redragon K552 with Outemu Red (linear) switches. I have two problems with this keyboard: it's so darn tall (compared to the other keyboards I have); and my accuracy on red switches is atrocious. This model does support hot-swappable switches, so I think I will probably try tactile switches at some point to see if that fixes the issue.
I don't have much experience with other keyboard form factors except for my Perixx Periboard 512 (version 1), which honestly is pretty comfortable to type on but I don't think is as well suited for speed typing. I feel that the curve spaces keys further apart and makes it hard to burst; conversely, I feel that this makes it good for practice and stretching your fingers out.
---
Current outlook
I've come a long way since starting out in Colemak, and I think I've learned a lot about the way I type and have greatly reduced the"angry typing" and been able to increase my consistency and burst typing. For now, I will probably spend some time with three keyboards: my Redragon K552 with linear (and perhaps tactile) switches; my Latitude E6420 laptop with scissor switches; and the keyboard of some unknown new laptop that I will be purchasing in the near future. It will probably take some time to adjust given that I'm switching away from my usual keyboard.
I think I've reached the point where I'm fairly comfortable with my typing speed in Colemak, which I can comfortably say is 130-140wpm nonquit on my usual laptop keyboard. It also means that I've reached a steady-state with typing, where it becomes a regular routine rather than something where I try to actively improve or compete. It's uncertain where it goes from here.
---
Footnotes
---
© Copyright 2023 Jonathan Lam